My quest to find the perfect cover for the perfect book
At the start of the new year, I made my resolution:
I'll set out to write a book on marketing. (I'm saying you need to just say A BOOK because, whoa, uh oh, THEN it turned into two books!).  What do I know about writing books? Not much (and never let anyone tell you writing a book is a breeze, even if you consider yourself a fairly creative person). But I do know a lot about marketing, which is why now that the content of the book is finished, I'm especially giddy: I've been spending hours deciding on the perfect book cover.
Every author understands—whether self-publishing or going the traditional route—the weight a book cover carries in giving potential readers a first impression. I need a design that will position me right and help me sell more books. I need a cover that will invite or intrigue readers to start in on the first page.
Where does one start envisioning a book cover design? I went first to some of my favorite covers and asked myself why they struck me.
This is one of my favorite all-time book covers: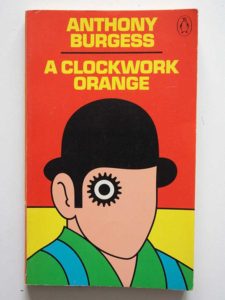 Designer: David Pelham
So why is this cover so strong?
Because it's got all the right stuff we marketers know will grab attention:
Red and yellow (both are disruptive colors in the marketing world) make a killer combination. They scream caution and stop (and are ugly together, unless you're McDonald's).
The image is clean, providing only minimal detail.
A human face always attracts our gaze.
There is an unusual element to the human face—it seems to be looking placidly toward us, but that bizarre mechanical singular eye takes your breath away for a second.
This Clockwork Orange cover catches your eye and doesn't let go.
Ok, so a cover with a starkly non-human human works for a satirical dystopian novel, but it's not exactly the best fit for a best-seller on marketing. I also don't have an art patron's budget—so once I have a few ideas for the cover in mind, where do I go? What do I need to consider?
There are many considerations and constraints to producing a book: page length, print costs, matching kindle to print versions, best size (pocket to coffee table), and so on. A quick query with a couple design firms was enough to confirm for me that to have my book packaged up and done right would cost me over $5000.
Ah, wrong track!
I'd just spent three-quarters of the year dedicating most of my spare time to writing though, so I wasn't going to call it quits at the final hurdle. I called a couple of my best-selling marketing author friends, and they recommended I try 99designs.com. Seven days and $300 later, I had twenty-four options to choose from. I knew what I was paying for, but now I had to work on my "Yay" or "Nay" piles. I am sharing some of the covers that made the final cut here.
These covers all met the minimum criteria the design contest set:
Maintain a brand along a series of books.
Have a strong and unique presence.
Reflect the book's themes.
Most importantly, since I'm self-publishing, I need to double-check that the cover looks just as "spendy" and serious as what you'd find on a heavy-hitting publishing house's book.
Here's a sampler of what designers sent me for Disrupt That, my first book, coming out later this month:
The rocket ship cover: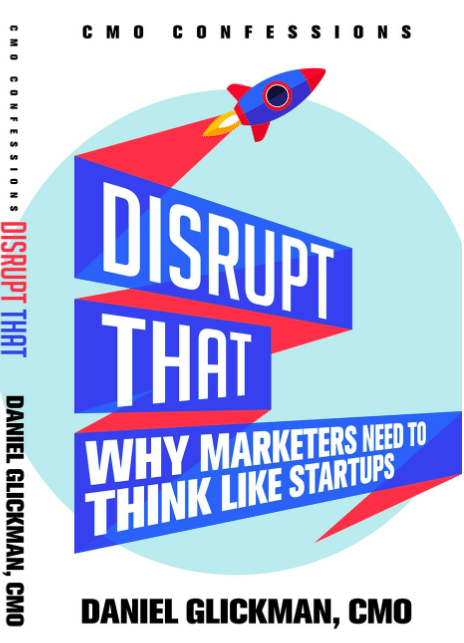 I'm a space ship and rocket ship fanatic, and while being disruptive certainly entails thinking that "the sky is the limit," I don't equate disruption with blasting off. This is a great design: It's different, fun and promising. The problem is, it somehow strikes me as a book for startups or small businesses and that's not how I would like my audience to think about my content.
The airplane cover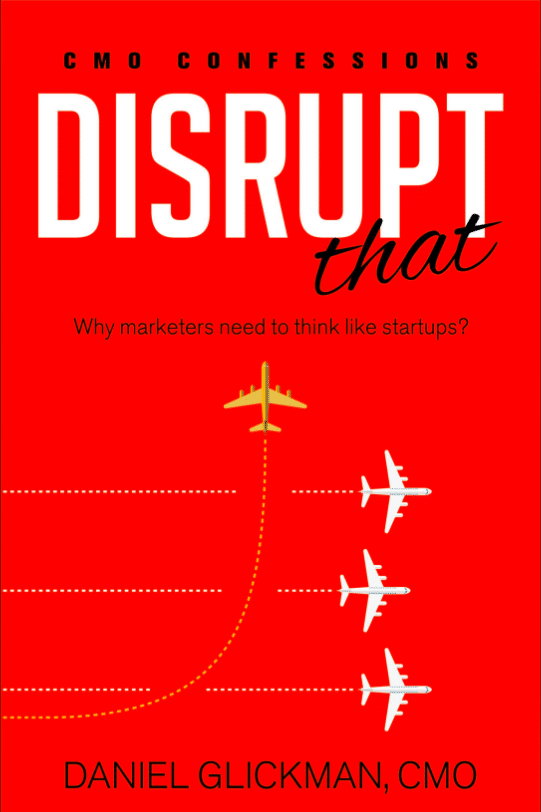 Given the routine hell and general discomfort airlines put travelers through, the last think I want on my book cover is an airplane flying in the wrong direction. Next.
The graph analysis cover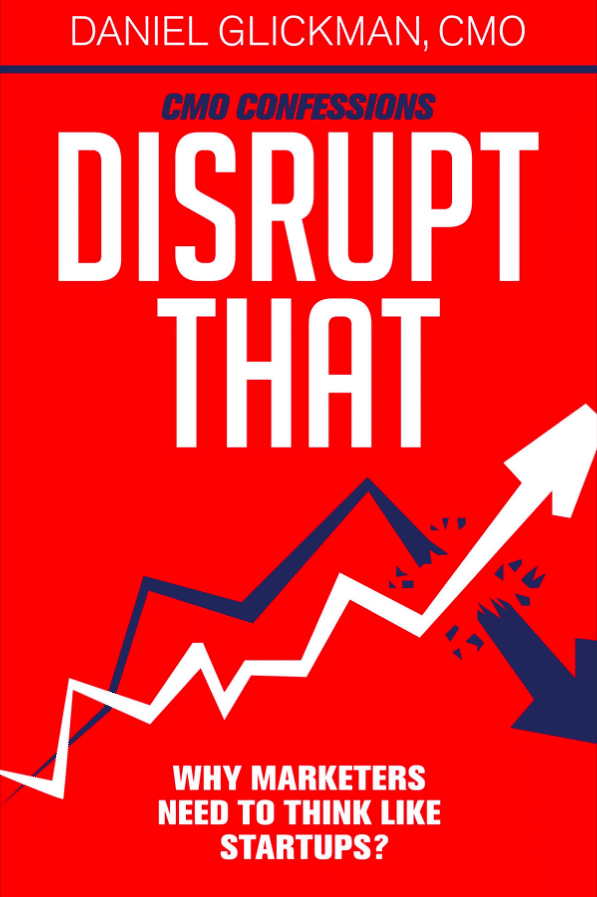 The idea of putting a chart on the cover is quite smart and really captures the theme of the book: Disruption is a technique that generates small wins that lead to a higher profit margin, which allows you to scale and beat the competition. But there is something about those snaky lines that feels a bit goofy, Don't you think?.
The white and red cover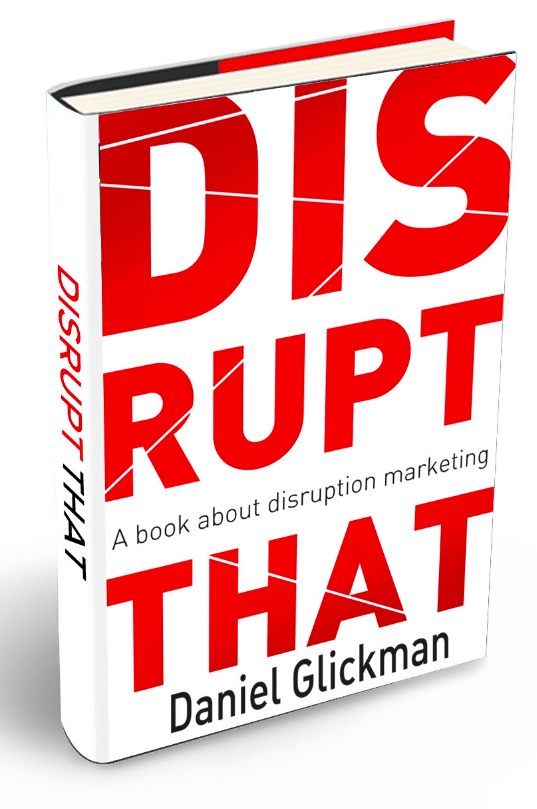 We're almost there. At first glance, this looked like a great option: one would notice this striking red and white book from across a large room. But my book is for marketing managers, and we all know that red is a disruptive color. In fact, a quick Google image search led me to half a dozen books on disruption with red on the cover. Doing what everyone else does is not a disruptive—or original—approach to doing anything, let alone designing a book cover! While this is a great design concept I want to disrupt the disruption. How about that mind bender!
The cover I chose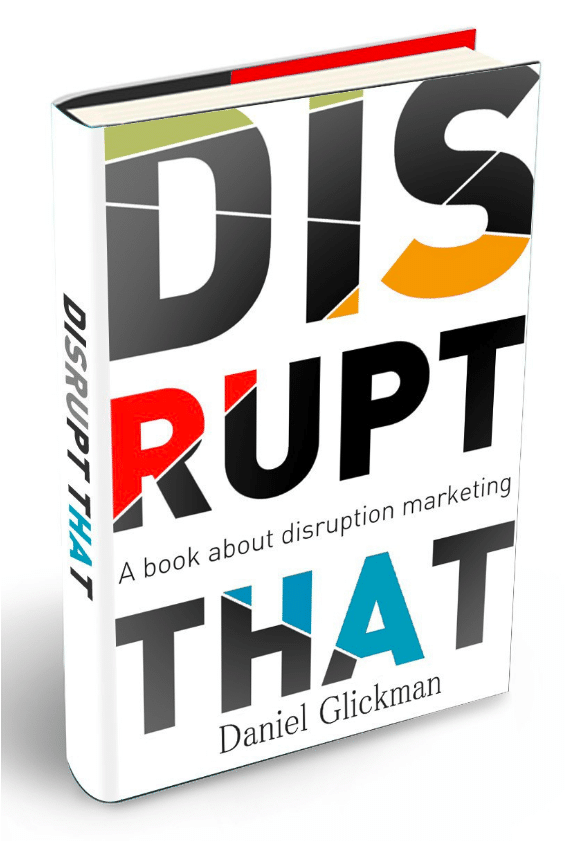 The graphics on this cover break like an end-of-the-week cocktail over ice. I like the inclusion of red and yellow, in moderation. This cover is classy and provides a hint of what the book is about: How to break apart your marketing side of the business into its basic building blocks, and then restructure them in a new way that nobody else is doing and that makes more sense for your market.
Ironically, the criteria met for my book cover meets none of what I mentioned being drawn to with the Clockwork Orange cover. But suffice it to say: my book is not Anthony Burges's.
Self-awareness clouds judgement
This is the moment: These books are my babies, and now I know what authors mean when they talk about a "9-month long pregnancy" in front of a computer screen. From January 2016 on, I researched, wrote, designed, and most importantly, poured my most intimate marketing mind into this project. What will people say when they read it? What if no one ever reads it because they hate the cover? What if my babies aren't the most popular kids on the block? Oh gosh. These final weeks and moments before coming out is excruciating.