Elena Ferrante worked hard to keep maintain her anonymity. It didn't work. With her identity revealed last month, Ferrante became the world's most famous unknown writer.
Here is a writer whose Neapolitan quartet has been translated into over 20 languages and has sold over 1 million copies in the USA alone (since the first book came out in 2012).  And yet, in the era of social media and selfies and self-branding gone wild, she strived to keep her true identity secret.
Why?
Why would any writer who is insanely successful not want to stand atop a mountain and shout: It's me! I'm a 21st century big deal—(and I'm just a damn writer)! Look at me! Worship me! Buy more of my books!
What kind of super human, especially in a market as tough as book publishing, can resist the urge to be known? To make a brand of themselves? To leverage their awesomeness into even more awesome?
Am I right?
As marketers our motivations for publishing may be different than those of fiction writers, but either way, self-promotion is usually a major factor in the decision to publish.  We publish in order to escape anonymity.  People like Ferrante who chose the opposite earn our respect, but confuse us.
Most of us fear anonymity in any form, but for marketers, self-branding has become a real business and career necessity. Simply put: It's not enough to do great work and achieve great results, marketing leaders today must make sure that greatness is what they're known for!
Consider Ann Handley (of Everybody Writes and cool eyeglasses fame): Everyone loves Ann and every marketer wants to be her when they grow up! One can easily say that her brand is stronger than that of her employer's—Marketing Profs. She's an accomplished writer and influencer who uses her personal brand to benefit the company she works for. In turn, the company helps her build her brand because it helps them. And so goes the cycle of mutually beneficial awesomeness.
Who doesn't want some of that?
We marketers embrace the public spotlight. Now that I'm adjusting to the idea of calling myself a writer and now that my twins—Personalize This and Disrupt That—are about to go out in the world and people are gearing up to read them from first page to last—however humble a person I imagined I was prior to being a published writer has gone out the door.
Trust me, I just returned from marketing prof's B2B forum, where I simultaneously felt like regular old me—Daniel Glickman, CMO, guy with a head full of funnels and data analysis doodads—and like kind of a big deal—Daniel Glickman, Author of not one, but two debut books that yes, maybe I did write in my sweatpants (don't judge)!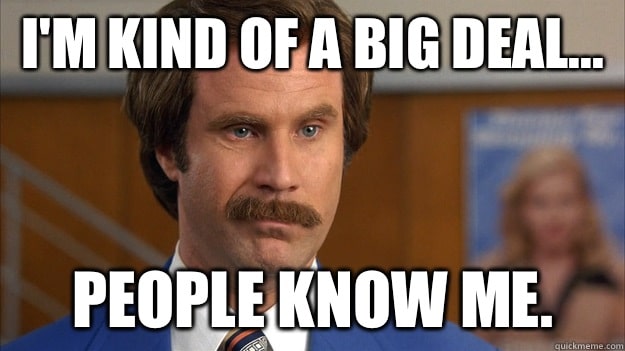 But the reason we want to publish a book runs deeper than career strategy. There are far easier and more economical ways of gaining influence—believe me, writing a non-fiction book does not provide a good ROI in any form.
So why publish?
In one word: Passion.
I like most marketers am a passionate person. I love my work and am grateful for my community of marketers (that's you!). With you, I am always learning and developing. My books never would have made it past my computer screen without your amazing feedback, support, and advice.
And though the book writing process was arduous, it's hard to believe that only one year ago exactly, I had a long stimulating conversation with Heidi Cohen—who convinced me that writing a book was doable. "Don't think," she said. "Just write! Everything else will follow."
Things did follow; people followed.
Jon T Wuebben, author of Future Marketing, gave me advice on book design and helped me save over $1,000!
Rob Garner, author of Search Social, helped me understand the business of book writing and how to position myself correctly.
Lauri Sullivan, editor and writer, gave me amazing advice on the writing process, and writer and editor Christine Fadden edited, re-wrote, and more.
Most importantly, and this is not a cliché, my wife Amelia supported and encouraged me every step of the way. I do not take this for granted. Going on a writing journey effects the entire family and deciding to write Personalize This and Disrupt That was a joint decision.  I love Amelia dearly.
So, dear friends far and wide…
I've already promised a few friends and colleagues of the inner and quick-to-comment circle a free copy of Personalize This, and feedback from my earliest readers has started to trickle in.
Now, I've already bought myself a shiny new pair of shoes that struck me as "writerly," and as I lean back in my office chair and put them up on my desk, where all I've ever thought about is branding—it's time for me to ask the kind of favor I have never had to ask:
Dear friends and colleagues and social media contacts,
Put yourselves in my shoes. You are highly skilled at your job; your reputation is solid. On LinkedIn, you're social-proofed up to your neck—10 zillion people have recommended you for the things you excel at.
So, help me escape anonymity, please. 
How?
On November 19th, please buy my book. Please read it. Please respond and react to it—(love it or hate it, that's now out of my hands).
But pretty please with sugar on top and a banana in the middle, above all, be kind and write a review of it on Amazon.
I need some attention here! Let me know that my effort was not in vain.
Don't let feel like a loser!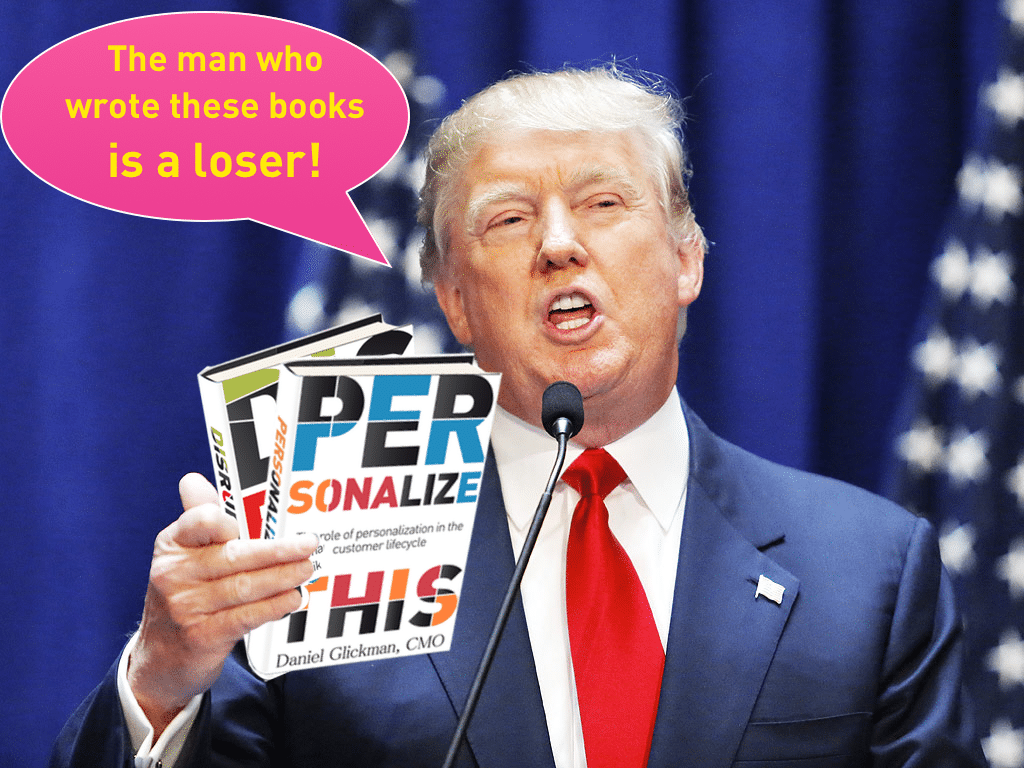 I'm a CMO. My CMO'ing life will go on, with or without book reviews. But, putting yourself in my shiny new writer's shoes, ask what you would want for yourself after spending the greater part of a year putting all of your CMO musings to the page. Trust me on this: You'll want readers, and you'll want readers to blab, rant, quote, debate, and share.
Love it or hate it, marketers excel at reminding you that the holidays are coming. Show the marketers in your life you're thinking of them, and of their future success—gift them a copy of Personalize This!
Personalize This is my gift to you; your review of Personalize This is you giving back to me.
And if you ever want to write a book yourself, give me a call. I'm happy to help.
See you on November 19th!